OVER 3,500 CARDS GIVEN TO NHS STAFF!
*ONE YEAR ANNIVERSARY*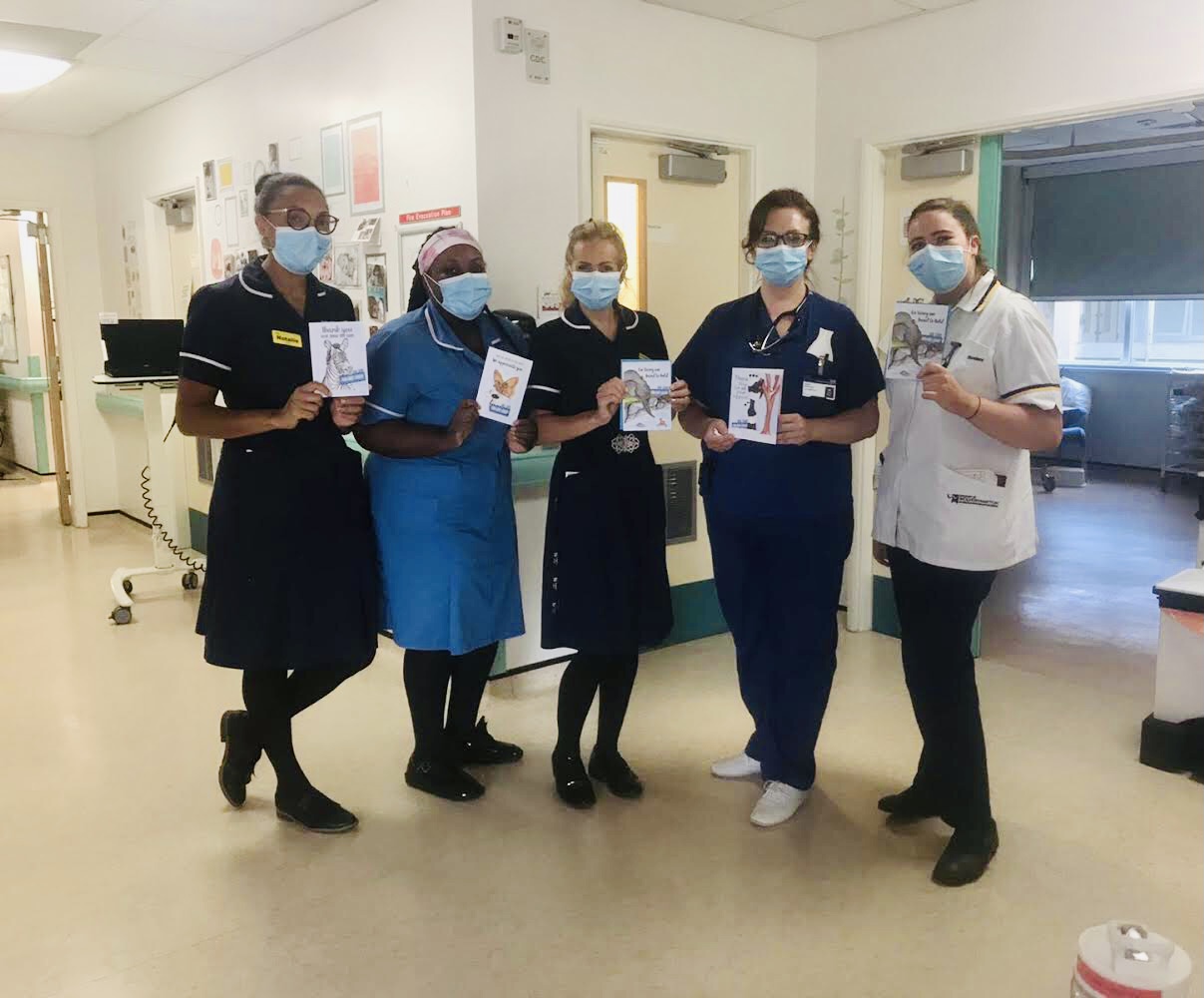 The past year or so has been a difficult time for many of us. However, the frontline workers have been so brave; from the cleaners and cooks to the medical staff, so many of them had to battle the emotional trauma, make hard decisions, risk their own welfare and those of their loved ones, meanwhile in many cases continuing to treat patient after patient.
As our ethos is to make people smile, we thought about how we could do this for the NHS staff. Amid those hard times, we took the initiative to do what was in our power. Our team had some discussions with senior hospital management and realised the need for something to boost their spirits. Something thoughtful, something personal, and most importantly, something tangible, so it may serve as a constant reminder of their bravery and a souvenir of appreciation.
Thus, as a greeting card company, we partnered with the local community. We created hand-illustrated thank you cards to be distributed to as many NHS workers as we could, to uplift their spirits as a card can certainly do wonders to cheer people up.
It's been a year since we launched the campaign #CardsForNHS. Our goal was to send as many cards to NHS workers as we could. Your response was overwhelming. The support kept pouring in and with your help, we were able to raise enough money to distribute over 3,500 cards to NHS staff, which in turn has likely touched 3,500 people. We gave cards out to the following locations:
Good Hope Hospital
Heartlands Hospital
Queen Elizabeth Hospital
Solihull Hospital
City Hospital
Sandwell Hospital
West Midlands Ambulance Service
also several GPs
We would never have been able to do this without your help and we would like to thank each and every one of you who donated. It doesn't matter whether you sponsored one card or one hundred, all that matters is that your kindness extended towards uplifting so many.
If anything, this has made us realise the sheer power of a human touch through a small, thoughtful gesture. It has been a very rewarding experience indeed, and we wanted to share with you some of what the NHS workers said:

These heartwarming moments would have never been possible without you. So, we would like to express appreciation for the overwhelming response you have given us. Rest assured that your efforts made someone's entire day, or maybe their entire week!
So, thank you for being part of our campaign, and thank you for bringing smiles to so many faces over the region. The entire campaign wouldn't have been possible without you guys!

The Curious Pencil Team